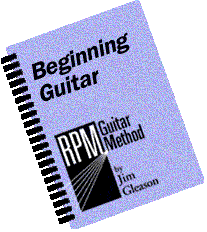 Beginning Guitar

This book includes 221 lessons intended for the first year or two of study. In this easy step-by-step book, each lesson prepares you for the next. Get a rock-solid foundation in all the important subjects on guitar playing. 412-page book with four CD's: $45.

Beginning Guitar includes practical and effective technical exercises; rhythm and solo guitar pieces in Blues, Rock, Classical, Folk, Jazz and Reggae styles. Learn to play in the styles of Robert Johnson, Bach, Albert King, B.B. King, Jimi Hendrix, Jeff Beck, Chuck Berry, Bob Marley and others.

Beginning guitar will teach you to read and play rhythms. You will learn to play scales and improvise with them. There are thorough lessons on ear training, beginning theory and fingering. Very detailed technical studies show you everything you need to know about fretting, chording, slurring, picking and plucking. In many cases, the same information is presented in multiple perspectives, providing the reader with better insights and understanding.

Most of the over two hundred lessons included in Beginning Guitar are supported with a recording on one of the three CD's included with the book. The CD's are also included with the Beginning Guitar Book/Video Package.